A group of about 35 teachers, parents and community activists gathered at the Fisher Building Monday afternoon to present Detroit Public Schools Transition Manager Judge Steven Rhodes with "The Public Schools All Detroit Children Deserve," a platform document that outlines a community-driven vision for public education. You can read the community platform here in English, or Spanish.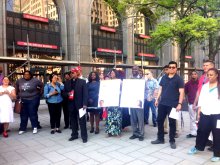 Photo: Educators, parents and activists deliver the community platform.
The platform came out of an April 16 community meeting with the Detroit Federation of Teachers, parents and community allies—including representatives from MOSES, the ACLU, 482Forward, the NAACP, Mothering Justice and AFT Michigan. The seven platform points—recommendations for improving Detroit schools and bettering student outcomes—will be used to shape and develop contract language and proposals.
The platform points call for:
Full funding, democratically accountable governance;
Education programs and services to help the whole child;
Support for educators;
Manageable class sizes and caseloads;
Welcoming, safe and inclusive school environments;
Culturally relevant curriculum; and
Equitable special education services.
The platform aims to give parents and community members a voice in decisions that affect our neighborhood public schools. We also want to underscore and strengthen the partnership that exists among educators, parents, the community and our union as we prepare to negotiate a new contract.